Innovation and Artificial Intelligence

Learn about what our award winning innovation team has been up to.
Artificial intelligence (AI) refers to the development of technological systems which are able to perform tasks that would ordinarily require human intelligence.
We are exploring AI with a view to keeping our business relevant in light of the 4th Industrial Revolution. We see AI as being a big future player in the legal sector. As a key strategic partner to many clients, we understand our responsibilities to take full advantage of technology to aid our service delivery solutions.
Our innovation strategy and what success looks like
Our innovation strategy is linked to utilising new and emerging technologies to make us agile in a very dynamic market. We are using AI across many areas of our business including PI, corporate, commercial, real estate and internal business use cases.
Success for us with legal AI will enable our lawyers to focus only on those elements of the work that they currently do that requires proper, formal, legal input.
Weightmans' Innovation Group have learnt much through experimenting
For example:
In terms of AI, everything still starts with collecting or extracting the raw data reliably, using legal reasoning to make a decision before recycling those insights to inform or change future actions.
Much of what is termed AI is simply "clever search". Very clever to be fair, but "search" nonetheless.
We cannot innovate alone. Our role in the AI world is as legal subject matter experts deployed in collaboration with clients, academia and software experts to deliver practical solutions that fix our clients' problems.
The key is being clear as to the precise nature of the problem you are trying to solve.
Sometimes what you end up with is not what you started out to fix but the exercise of Innovation can nevertheless result in products and solutions that turn out to be useful in their own right.
None of the technology is in fact 'magic', although it can appear so. It also requires a lot of human input in the background, before the magic can happen.
Our insights
We regularly produce insights on innovation, artificial intelligence and technology and how it applies to our clients.
How is our innovation progressing?
The Innovation Group are undertaking many proofs of concept and are working with many major clients on some of the projects. We have looked at the legal reasoning side of legal AI to explore how AI can assist with decision making and we have also explored information extraction. We are also looking to see how the application of data science can derive insights from the data which we hold on matters for a number of our clients and for our own internal benefit.
Our approach is grounded in computer science theory and we collaborate with Liverpool University (as well as a number of commercial organisations like Kira) to look to see how we may apply AI-based legal technology to the work that we do. We are one of the first collaborations between academia and commercial organisations in a study on law and technology, allowing academics the opportunity to put their theories into practice.
Our research and development has narrowed our focus to two approaches, both of which do different things and solve two different problems. The first product we have trained and are currently testing is a system that is designed to extract data from documents. We are experimenting with it in a number of ways and are working closely with clients in the insurance and corporate sphere.
The second approach we are testing can apply logic to a given set of facts utilising a decision engine approach from our work with the University. We have several different areas of law being developed using this software, including assisting with making liability decisions in industrial deafness claims.
We are also working on linking up the information extraction and the decision engine approaches so that they can work together.
Our approach to innovation
"What I believe sets us apart is that our approach to innovation is about investing in how our people, rather than 'robots' alone, will advance the firm. Our employees and several clients are involved in analysing and testing the systems we're developing and we're benefiting from working with some of the country's leading thinkers on the relationship between AI and the law."

Stuart Whittle, Business Services and Innovation Director.
Awards
We are delighted to be recognised for our work in innovation and technology:
Winners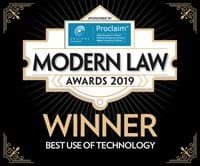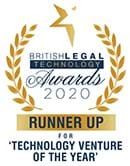 Shortlisted
| Award | Category | Status |
| --- | --- | --- |
| European Women of Legal Tech | Professional Services | Catriona was nominated by her peers |
| British Legal Tech 2020 | Technology Venture of the Year | Runners up |
| ILTA | Supported Kira for 'best technology product' | Finalist |
| Managing Partners Forum 2020 | Best business innovation | Finalist   |
| The Law Society Excellence Awards 2019 | Excellence in Technology and Innovation | Finalist |
| British Legal Technology Awards 2019 | Technology Team of the Year | Finalist |
| Manchester Legal Awards 2019 | Law Firm Innovation | Finalist |
| Legal Week Innovation Awards 2019 | AI Innovation | Finalist |
| Legal Week Innovation Awards 2019 | Rising Star – Catriona Wolfenden | Finalist |
| Manchester Legal Awards 2019 | Law Firm Innovation | Finalist |
| British Legal Technology Awards 2018 | Alliance of the Year | Finalist |
| British Legal Technology Awards 2018 | Excellence in IT Security | Finalist |
| Changing Lawyers Awards 2018 | Outstanding Lawyer of the Year – Stuart Whittle | Finalist |
| Changing Lawyers Awards 2018 | Outstanding Law Firm of the Year | Finalist |
Memberships and partnerships
Thomson Reuters' Client Advisory Board
Law and Technology Podcast
Weightmans is proud to have been a member of the University of Manchester's Law & Technology Initiative for the last two years. As leaders in their field, Weightmans Director of Innovation Stuart Whittle and Innovation Manager Catriona Wolfenden joined other partner firms to take part in a series of roundtable discussions, provide a comprehensive view of the current landscape and look to the future of legal technology.
Media highlights
We believe our approach is pioneering, and we are delighted that the media from across the insurance, legal, technology and business sectors have agreed with us.
What is the problem we are trying to solve and how do you seek the right solution? Our Innovation Manager Catriona Wolfenden spoke to Kira's CEO, Noah Waisberg, about Kira's upcoming book, AI for Lawyers. They also discussed AI maturity models, and how a legal organisation can determine whether it is fully leveraging AI's benefits.
Academic articles
Funding
Weightmans secures government grant for AI and data project that will transform legal services
Interested in working with us?
We work with clients collaboratively to innovate. Please contact us if we can help.
Contact us