Coronavirus Act 2020: Emergency legislation regulating eviction notices becomes law
The Queen granted the emergency coronavirus legislation Royal Assent on 25 March 2020 meaning regulating eviction notices has become law.
The Queen granted the emergency coronavirus legislation Royal Assent on 25 March 2020 meaning The Coronavirus Act has become an Act of Parliament with immediate effect.
What this means for landlords and tenants
The three-month notice period will now apply to any notice to quit or notice seeking possession under the Protection from Eviction Act 1977, the Housing Act 1985 and the Housing Act 1988. The Secretary of State for England and Welsh Minister in Wales will also have the power to extend this period by up to six months.
The Act will apply to all notices to quit or notices seeking possession, not just those relating to issues which have arisen as a result of the coronavirus crisis.
The Act will not affect any ongoing possession proceedings or any notices issued prior to the Act of Parliament coming into force.
The Act does not provide any rent relief for tenants. If a tenant is unable to pay rent as a result of the coronavirus crisis, a landlord will be entitled to issue possession, on the condition that they comply with the extended three-month notice period.
The Government have issued updated prescribed form Section 8 and Section 21 notices.
Form 6A: for a no fault possession notice on an assured shorthold tenancy
Form 3: notice seeking possession of a property let on an assured tenancy or an assured agricultural occupancy
We would advise you to always ensure that you are using the latest form of notice, by visiting the Government website on each occasion you draft notices (rather than using previous precedents) to ensure that the form being used is valid.
Possession hearings
From 27 March 2020; following a decision by the Master of the Rolls, all on going housing possession action will be suspended. This includes ongoing possession actions as well as fresh actions. The cases will not be able to progress to the stage where someone could be evicted (although this does not mean that any existing court directions will fall away automatically).
This suspension has been put in place for 90 days initially; but can be extended and it applies to private and social renters, mortgages and licences covered by Protection from Eviction Act 1977 in England and Wales.
Updated 27 March 2020
If the content of this update raises any issues for you, or you would like to discuss, please liaise with:
Sian Evans
Partner
sian.evans@weightmans.com
Jennifer Rogers
Associate
jennifer.rogers@weightmans.com

Coronavirus
View our latest guidance on how to plan, prepare and protect your organisation.
Read our guidance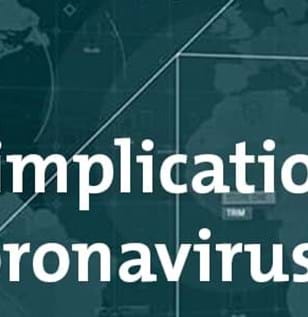 Sectors and Services featured in this article