Coronavirus Bill: second reading
Concern and anger are growing that this warning of social distancing has been widely ignored over the weekend as many people took to their local parks…
Everyone has been urged to adhere to social distancing and a stark warning has been issued to everyone to act responsibly, but concern and anger are growing that this warning has been widely ignored over the weekend.
Many people took to their local parks and beaches to get out in the fresh air and enjoy the sun. From the pictures emerging on news channels and social media, many ignored Government advice to keep two metres apart, with crowds congregating in parks and beaches. Pictures have been widely shared of busy tube carriages this morning.
The UK is now facing the prospect of a total lockdown. The Coronavirus Bill is going to be debated in the Commons today and go through its second reading. The Bill is publicly available here. In essence, the Bill will give the Government more powers to lock down Britain to force people into self-isolation and distancing to try and prevent the virus continuing to spread so rapidly.
The Bill runs to 320 pages and includes the following provisions:
Increasing police detainment powers to detain those people suspected of carrying the virus for quarantine
Issuing £1000 fines to those refusing to issue a biological sample, such as a sample of blood or respiratory secretions - travel history must also be disclosed
Restrictions on travel and giving police powers to ban all gatherings
Streamlining NHS procedures, including allowing death certificates to be issued by funeral directors instead of having the need for a second confirmatory medical certificate to allow for a cremation to take place
Postponement of upcoming elections and referendums
Ports and airports to be closed
Emergency registration of many medical and other staff including doctors, nurses, allied health professionals, and social workers
Temporary closure of educational institutions and childcare premises
Modifications to the way statutory sick pay applies
Court proceedings to be held remotely via video link
Powers to intervene if it is suspected that the distribution of food is being disrupted.
If the Bill is passed, as is anticipated, then these measures could be in place for up to two years.
Public bodies are being asked to deal with vast changes at short notice and with limited resources. The Bill is lengthy and allows for various orders to be made. As a leading public sector advisory firm we are here to help with the vast workload lawyers at public bodies are going to be facing.
For further information please contact Victoria Robertson by email at victoria.robertson@weightmans.com or by telephone on +44 (0)113 213 4159
Coronavirus
View our latest guidance on how to plan, prepare and protect your organisation.
Read our guidance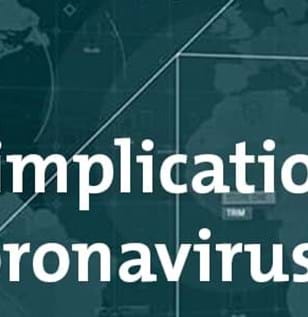 More articles by Victoria Robertson
Sectors and Services featured in this article