Coronavirus Job Retention Scheme: New guidance released ahead of claims portal launch
The CJRS was built at speed and has developed fluidly, with the government rapidly building additional detail into the scheme to plug gaps identified…
Following the Chancellor's launch of the Coronavirus Job Retention Scheme (CJRS) on 20 March 2020, many employers will already be deeply involved in the process of placing staff on furlough and preparing to make refund applications under the scheme when the claims portal opens, currently expected to be at the end of this month (April 2020).
However, the CJRS was built at speed and has developed fluidly, with the government rapidly building additional detail into the scheme to plug gaps identified by employers.
New guidance
On 15 April the government published what will hopefully be the final substantive version of its scheme guidance, given that there is less than 14 days to go before the claims process is intended to 'go live'. Some further refinement is likely though, given that each new iteration of the guidance seems to raise further questions.
Also on 15 April, HM Treasury published its Direction to HMRC, a detailed set of instructions setting out how the scheme will be technically administered. Read alongside the employer-focused scheme guidance, this provides useful insight into how HMRC are likely to approach the refund process.
What's changed?
The most important changes flagged in the 15 April guidance documents are as follows:
The eligibility date for furlough has changed from 28 February to 19 March 2020 (the day before the scheme was first announced). This means that any employee who was on an employer's payroll at this new, later date can be furloughed by their employer. However, crucially, the employer must also have filed an RTI submission to HMRC for the employee by the 19 March cut-off date. Interestingly, previous iterations of the government guidance have not made any reference to the RTI submissions process.
Previously, for the purposes of calculating the furlough payment, employers were advised to use the employee's salary as at 28 February. Now, salary should be taken as the employee's pay as in the last pay period before 19 March. However, if employers have already made calculations based on the 28 February reference date, these figures may still be used if the employer wishes. Salary should be calculated after salary sacrifice; the cost of benefits in kind and employee pension contributions should not be included.
Importantly, the relevant date for 're-hiring' remains 28 February. In other words, ex-employees must have been on payroll at that date to be eligible to be re-hired and furloughed by their employer.
The rule that employees must not work for their employer during furlough has been expanded to make clear that work for any organisation "linked or associated with the employer's organisation" is also prohibited.
The new guidance clarifies that an employer is eligible to claim under the CJRS in respect of employees joining the organisation under TUPE (or PAYE business succession rules) after 19 March 2020. Where an employer operates multiple PAYE schemes, and these are consolidated after 19 March 2020, the new consolidated scheme will be eligible to furlough employees.
Foreign nationals, and employees on any type of visa can also be furloughed. The government has previously provided assurances that employee participation in the furlough scheme will not affect immigration status.
The new guidance also clarifies how furlough leave will interact with other types of leave including unpaid leave and sick leave.
Previous guidance had stated that employees placed on unpaid leave before 28 February could not be furloughed at all. The government's new more nuanced position is that these employees may be furloughed after the return date agreed when they commenced their unpaid leave. These employees can still be furloughed even if no return date was previously agreed, although it is more difficult in these circumstances to determine when furlough should start. It remains clear that employees placed on unpaid leave after 28 February are eligible for furlough.
In relation to sick pay, the new guidance clarifies that employees on sick leave, and in receipt of SSP, can be furloughed, as long as sick leave is brought to an end first. An employee cannot receive furlough pay and SSP at the same time. An employer may claim for the same employee under the CJRS and the SSP rebate scheme (which enables employers to claim back from the government the cost of the first 14 days of SSP), but not for the same period of time.
What does this mean for me?
The most important change for employers is the change in eligibility date to 19 March, which will broaden out the scheme to a greater number of employees, provided that they have also been notified to HMRC by RTI submission by that date In expanding the scheme in this way, the government has seemingly bowed to public pressure to include 'new starters' in the rescue package, whilst still achieving the 'anti-fraud' objective
Confirmation that employees incoming under TUPE can be furloughed will also be welcome news to employers, as we know that lack of clarity on this issue was an urgent concern for many clients with business transfers pending or imminent.
Insight into the mechanics of payment set out in the Direction to HMRC may also be comforting. These rules state that the CJRS will reimburse "the gross amount of earnings paid or reasonably expected to be paid by the employer to an employee". This seems to be long-awaited confirmation that employers need not have already paid their employees before making a claim to HMRC, but can claim funds before payment falls due. We know this is a business-critical point for many of our clients presently managing the challenges of cash-flow.
Comment
It was originally anticipated that the CJRS would require new legislation to bring it to life, and there was concern over whether this could be achieved quickly enough to provide urgent economic support to UK employers. However, it now appears that the government guidance and Direction to HMRC will form the entirety of the scheme. No new legislation is planned.
This is to some extent a relief; there will be no new rules for employers already under tremendous pressure to grapple with. However, the lack of a formal statutory framework to underpin the scheme may inevitably mean that it is 'slippery' and subject to change.
Many of these changes appear to have been made with fraud prevention in mind; to tighten access to the scheme and to minimise leakage. This may stem from the fact that uptake under the scheme has vastly exceeded the government's initial estimates, with up to a third of the private sector workforce predicted to take up furlough at a cost of around £40billion over three months. There is also growing speculation that the CJRS will need to be extended past the three-month mark, with fears that bringing the scheme to a premature end, before employers have found their feet, may result in redundancies and business closures despite the government's enormous financial rescue effort.
If you need advice or support with navigating any aspect of the CJRS, or the broader impact of COVID19 on your business, please do not hesitate to contact your usual Weightmans advisor or Ben Daniel, Head of Employment, Pensions and Immigration at ben.daniel@weightmans.com.  
Coronavirus
View our latest guidance on how to plan, prepare and protect your organisation.
Read our guidance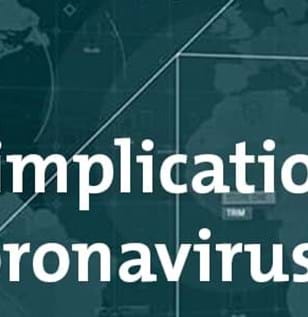 More articles by Ben Daniel
Sectors and Services featured in this article