COVID -19 Restructuring/Insolvency & wrongful trading – Governmental update
Despite businesses and directors welcoming government schemes to help cash flow during the COVID-19 pandemic, the availability of various forms of…
Despite businesses and directors welcoming government schemes to help cash flow during the COVID-19 pandemic (see previous article from Patricia Grinyer on available funding), the availability of various forms of funding has raised a further question; whether directors should be taking on debt in such uncertain times? We continue to receive calls from clients who are concerned about the viability and solvency of their business as a direct consequence of COVID-19, particularly questions around their duties and whether they might be at risk from 'wrongful trading' liability.
It will therefore come as welcome news that the UK government announced on 28 March 2020 that it will introduce new legislation at the "earliest opportunity" to suspend wrongful trading laws retrospectively from 1 March 2020 for a period of 3 months (to be extended if necessary) to allow directors to continue to pay staff and suppliers without risk of personal liability should their business later become insolvent. Further, the government are to rush through legislation to introduce the long awaited Restructuring Moratorium that will allow companies to file documentation at Court to immediately fend off creditor pressure.  Previous proposals were for an initial 28-day extendable period to allow time to put in place a plan to resolve trading issues but it remains to be seen whether the new legislation will extend this to cover the entirety of any 'lockdown' period. 
Whilst these are positive moves, what should be approached with some caution is the break neck introduction of the Restructuring Plan. Whilst this has been discussed and consulted upon alongside the Restructuring Moratorium for some time, it is less clear whether this is a necessary tool to combat the financial implications of COVID-19 and whether it needs to be rushed through Parliament at this time. 
Current law and changes at a glance
Wrongful trading 
The current law on wrongful trading is largely contained in section 214 and section 246ZB of the Insolvency Act 1986 ("IA1986"). Once a director of a company concludes (or should have concluded) that there is no reasonable prospect of the company avoiding an insolvent liquidation or administration, they have a duty to take every step which a reasonably diligent director would take to minimise potential loss to the company's creditors. If, after the company has gone into insolvent liquidation or administration, the court is satisfied that a director failed to comply with this duty, the court can order the director to make a compensatory payment for the benefit of creditors. This is clearly a very real concern for directors  and a suspension of this potential liability will clearly take some of the risk away  when deciding whether to continue trading through this period. 
The principal concerns surround the continued payment of staff, thereby triggering additional employers PAYE and NIC liabilities to HMRC, and incurring further credit with suppliers should the company later become insolvent as a result. 
Directors should note that this planned relaxation of their duties will only apply to 'wrongful trading' The government has specifically stated that "all of the other checks and balances that help to ensure directors fulfil their duties properly will remain in force", including those relating to 'fraudulent trading', 'misfeasance' and the threat of director disqualification. As such, directors should continue to seek advice on how to record their decision making throughout this period.   
Restructuring Moratorium
The only current options for a company seeking a moratorium on creditor actions are to either instigate formal insolvency proceedings or enter into a CVA moratorium for a small company. There is currently no way for a company to  simply 'buy time' in order to try to resolve its trading difficulties, (recent case law having made clear that it is no longer acceptable practice to 'buy time' by filing a notice of intention to appoint administrators unless there is a settled intention to actually put the company into administration). 
We are in unprecedented times. There are many thousands of businesses across the country that were previously financially sound - with no historic debt issues - whose income has, almost overnight, dropped off a cliff due to COVID-19 and who simply need time to ride out the current period of economic inactivity.  The new Restructuring Moratorium may be an essential tool for some of these businesses who need to 'buy time' to work out a temporary solution to their cash flow issues. Previous consultations have suggested that the Restructuring Moratorium will be modelled on the existing Administration Moratorium, and triggered by an out-of-court filing. This will allow directors who meet the relevant criteria to instigate an immediate moratorium. The previously proposed criteria were:
The Company must be "prospectively insolvent", i.e. unless action is taken the business will become insolvent. It is unclear whether a previous proposal to exclude already insolvent companies will still apply in the current circumstances;
The Company must have a genuine prospect of rescue;
The Company must demonstrate that it has sufficient funds to carry on its business during the moratorium, meeting current and new obligations as they fall due.
We will of course update this article as and when the final government legislation is published.
Restructuring Plan 
This will be a brand new insolvency tool based on the existing scheme of arrangement in Part 26 of the Companies Act 2006 but with the ability to cross class cram down with Court supervision as opposed to the existing ability to cram down creditors of the same class. This has been anticipated for some time as a move to adopt a process similar to Chapter 11 Bankruptcy provisions in the US.  The cram down process is similar in nature to the existing CVA and Scheme procedures whereby objecting creditors can be bound into an arrangement that compromises their existing rights.  The new Restructuring Plan will simply extend that concept to compromise the claims of objecting classes of creditors, e.g. landlords, if out-voted by other classes.
Questions and concerns
Wrongful trading
Successful 'wrongful trading' claims are a relatively rare occurrence because the provisions of section 214 and 246ZB IA 1986 already contain a mechanism to help protect directors in special circumstances such as these provided that they "do the right thing" and take appropriate steps to mitigate losses to creditors. Whilst it is understandable that directors might welcome the comfort of a carte blanche suspension of wrongful trading claims, to suspend them over a fixed period of time seems to be a very blunt instrument with which to handle the situation. 
We have seen UK businesses suffer with supply chain issues since January 2020 due to COVID-19 because they have not been able to obtain stock from China. This has negatively impacted on revenue. Why should those directors potentially be at more risk than someone who finds themselves in a similar position once the period of suspension of claims comes into force? The issues would appear  better dealt with through the use of Court discretion, assisted by guidance which in the past has been aided through processes such as 'Dear IP' letters from the Insolvency Service providing guidance on how the Government wants the sector to approach such claims if the alleged conduct has arisen from a business severely hampered by COVID-19.  
It appears that the sector merely needs government guidance on the interpretation of s.214(3) in relation  to COVID-19, namely that in the event that a company has gone into insolvent liquidation as a result of COVID-19 and insolvency can be evidenced as a result, then the director can benefit from the existing defences.
Restructuring Moratorium
The government also needs to be cautious that in, rightly, seeking to protect businesses and their directors with these new measures that they do not increase the severity and impact of COVID-19 further down the supply chain. 
COVID-19 has already created an enforced forbearance landscape for creditors seeking payment of aged debts; petitions are routinely being adjourned to the first available date after 56 days and it is unclear given the current situation when new petitions will be heard. With suggestions of a possible six month lockdown, creditor enforcement powers have and will continue to be severely curtailed without the need for legislation. Most people understand that forbearance needs to be encouraged during this period of financial hardship but should this apply to bad debtors who were being chased for payment  long before COVID-19 had any impact? Will rushing in the Restructuring Moratorium simply allow bad debtors more time to pass their cash flow difficulties on to suppliers? 
The government release does stress that the new legislation will ensure that suppliers are protected so we will have to wait and see what these protections look like.
Restructuring Plan
The suspension of wrongful trading laws and introduction of an immediate out-of-court moratorium present possible solutions to very real and immediate COVID-19 related problems. Whilst the Restructuring Plan will be a welcome tool and does seek to deal with certain issues lacking in the current UK insolvency landscape, it is not apparent that any of these issues are COVID-19 specific and therefore the question has to be asked … why now and why not after a fuller parliamentary debate can be concluded? The Restructuring Plan is very similar in nature to the existing Scheme of Arrangement under Part 26 of the Companies Act 2006, adding the concept of cross class cram down to the basic cram down seen in Schemes. The cram down of creditor claims originates from the US Chapter 11 Bankruptcy process that is supervised by the Courts (and which is due to be replicated here via the Restructuring Plan) but at present a cram down is a more generalised concept for the forced imposition of restructuring proposals which often will compromise a creditors rights and/or debts even where a minority of creditors and/or shareholders have objected, such as with a CVA or Scheme. This new tool will simply allow for groups of creditors that are pre-categorised to have their rights compromised (subject to minimum requirements), even if they have objected to the plan. As is the case with much of the US Bankruptcy laws that the UK is moving towards, it is designed to encourage a more debtor friendly turnaround culture. However whilst Schemes of Arrangement are relatively common in the M&A world, it is not a 'go to' insolvency tool for SME's facing severe and immediate cash flow difficulties with less access to sophisticated forms of funding. In addition, the Restructuring Plan requires two Court hearings for sanction and at a time where Court hearings are being routinely adjourned across the board now does not seem to be the right time to burden the system with a relatively Court intensive process. It would be surprising if a Restructuring Plan is implemented over the next few months for reasons specific to COVID-19 where the same result could not have been achieved through existing insolvency mechanisms.
Summary
The current economic climate is unprecedented and any steps by the government to help business weather the storm should be welcomed. At this stage we do not know what the final legislative changes will look like but we have an idea given that similar provisions were previously announced back in 2018 but were delayed due to Brexit. The new changes will certainly help matters for some, the concern is whether they also make life more difficult for others. We do not want measures that could potentially push creditors into an insolvency process as a result of their inability to recover their debts, particularly those incurred pre COVID-19. We hope that some of these concerns will be resolved once the new legislation is published.
If you have any concerns of queries relating to you personally or your business and how this update impacts on you – please contact James Moore for Insolvency/Restructuring matters or Patricia Grinyer for Funding matters.
Coronavirus
View our latest guidance on how to plan, prepare and protect your organisation.
Read our guidance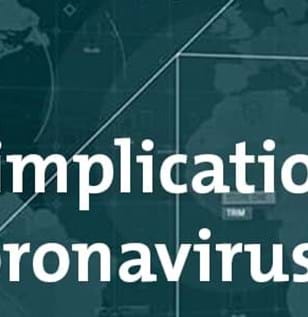 Sectors and Services featured in this article