COVID-19 | The increased demands on healthcare professionals
In these unprecedented times, it is clear that the next few months will present a significant level of challenge for the NHS.
The Coronavirus bill (the "Bill") was debated in the House of Commons yesterday 23 March 2020 and it is before the House of Lords today. The measures in the Bill are temporary and are felt to be proportionate to the threat we face. If passed, as is anticipated, then these measures could be in place for up to two years.
In these unprecedented times, it is clear that the next few months will present a significant level of challenge for the NHS.
The Bill thus seeks to increase the available health and social care workforce, with the following proposed measures:
1) Registration of suitable people as regulated healthcare professionals
Once passed, the Bill will enable regulators to 'emergency register' suitable people as regulated healthcare professionals.  This might include recently retired professionals and students who are near the end of their training.
The General Medical Council ("GMC") has already invited in excess of 15,000 doctors to return to practice with a temporary registration.  These are doctors who left the register or gave up their licence to practise within the last 3 years and have no outstanding complaints, conditions or sanctions on their practice.
In response to the pandemic, the GMC are using an 'opt out' process to manage the large number of temporary registrations. 
Section 18A of the Medical Act 1983 allows for temporary registration with regard to emergencies involving loss of human life or human illness.  If the government activates Section 18A of the Medical Act, where doctors have not opted out, their licence to practise will automatically be restored for the duration of the emergency.  It is the default position that those doctors will be temporarily re-registered free of charge.  It is of course optional and doctors not wishing to re-register and be subject to GMC regulation have to make their intentions clear to the GMC, so that they are not automatically re-registered. For those who are re-registered, as soon as the Government decides the emergency is over, their licence to practise is removed.
2) Ensuring that those providing healthcare service activity across the UK are legally protected for the work undertaken as part of the COVID-19 response.
The Government has confirmed that it will provide indemnity for clinical negligence liabilities arising from NHS activities carried out in relation to Coronavirus where there is no existing indemnity arrangement in place.   
If engaged by an NHS trust to provide NHS services, individuals will be covered by the Clinical Negligence Scheme for Trusts. If engaged by a GP practice to provide NHS services, individuals will be covered by the Clinical Negligence Scheme for General Practice.
In addition, the three main Medical Defence Organisations ("MDOs") have confirmed that they will, at no cost, provide professional indemnity protection to their former Members who have re-registered to work on the COVID-19 response.  This would cover, for example, legal advice and assistance in relation to a disciplinary investigation.
3) Suspending the 16 hour rule
Normally, during the first four weeks of returning to work after retirement, NHS staff under the 1995 NHS Pension Scheme are prevented from working more than 16 hours a week.  This rule would be suspended to allow staff to return immediately and increase their working commitments if required without having their pension benefits suspended. 
4) Emergency Volunteer Leave
Workers will be allowed to take Emergency Volunteer Leave in blocks of two, three or four weeks' statutory unpaid leave.
A UK-wide compensation fund will be established to compensate for loss of earnings and expenses incurred at a flat rate for those who volunteer through an appropriate authority, such as the Red Cross.
5) Regulators to add social workers to their registers
To ensure continuity of care for vulnerable children and adults, social workers who may have recently left the profession are to be temporarily re-added to their registers.
Comment
It is hoped that when the Coronavirus bill is passed, the increased numbers of healthcare professionals can be used appropriately to enable the essential services to function effectively at the height of this pandemic. 
Healthcare professionals returning to practice will need to receive an induction covering mandatory training requirements; fast track induction processes are therefore being developed locally, including refreshers on old skills, such as death certification and prescribing, and training on new skills where required (e.g. Personal Protective Equipment ("PPE").
Employers need to support staff to use their skills under challenging circumstances.  NHS England are also offering psychological and pastoral support to returning healthcare professionals in the roles they take on. 
As the pandemic worsens, it is likely that healthcare professionals will have to work outside their normal field of practice.  Trainee doctors will also likely be asked to work flexibly.  There is a balancing act for clinicians, weighing their knowledge and skills, options for support from other clinicians, the protection of their patients, minimising the risk of transmission and of course protecting their own health.
MDOs have advised that any doctor faced with clinical duties outside their clinical competence should explain their concerns clearly to someone with responsibility for providing the service, to determine the safest way to proceed. If they have done so and still feel uncomfortable, their MDO can advise them further.
'Good Medical Practice' should be followed as far as is practical in the circumstances, and provides a framework for ethical decision making in a wide range of situations.  However, further ethical guidance is expected soon, given the expectation that demand for services will outstrip the available resources. 
The GMC have acknowledged that doctors may be anxious about the context not being taken into account when concerns are raised about their actions in very challenging circumstances. However, the GMC have confirmed that where a concern is raised about a registered professional, they would take into account resources, guidelines and protocols in place at the time.  
The situation is changing each day and it is important for everyone to keep abreast of the latest guidance. Specialist advice to help manage the workplace risks associated with COVID-19 can be provided by Weightmans' Regulatory Team.
Maya Ravindran
Solicitor
DDI: 0151 242 6932
maya.ravindran@weightmans.com
Lili Oliver
Partner
DDI: 0207 8221 952
lili.oliver@weightmans.com
James Rowley
Partner 
DDI: 0161 214 0505
james.rowley@weightmans.com
Coronavirus
View our latest guidance on how to plan, prepare and protect your organisation.
Read our guidance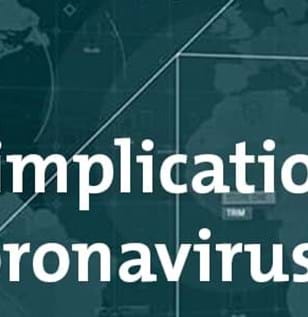 Sectors and Services featured in this article