COVID-19 update: Government support to businesses
On Tuesday, the Chancellor announced an additional support package in an attempt to support businesses through the period of disruption caused by…
On Tuesday (17 March 2020), the Chancellor announced an additional support package in an attempt to support businesses through the period of disruption caused by COVID–19. These measures have been designed to support cash flow and help relieve some of the burden caused by the disruption the global pandemic is having on UK businesses.
Although further information is required in order to see how these measures will operate in practice within this uncertain climate, we have provided below a brief summary of the measures proposed:
Coronavirus Business Interruption Loan Scheme
The Chancellor announced a new temporary scheme, the Coronavirus Business Interruption Loan Scheme, which is set to launch next week.
The scheme, delivered by the British Business Bank, aims to support businesses to access bank lending and overdrafts through providing lenders with a guarantee of 80% on each loan (subject to a per-lender cap on claims), aiming to provide lenders with further confidence in providing financial support to small businesses.
It was announced that the scheme will support loans of up to £5 million in value, and will come at no charge to businesses or banks. The interest on any loans taken out will, for the first six months, be covered by the Government and therefore businesses will be able to access the first six months of the finance interest free.
Insurance
A controversial element of the Government's advice in relation to social distancing has been that they have advised the public to stay away from pubs, theatres and other social establishments rather than ordering their closure. It has been suggested that merely advising the public may not be sufficient for those businesses which are adversely affected to be covered by a number of insurance policies.
The Chancellor addressed this by stating that those businesses which have insurance cover for pandemics and government-ordered closures will be able to claim.
Support for businesses that pay business rates
Businesses that pay little or no business rates as a result of small business rate relief ("SBBR"), or rural rate relief are also set to receive additional funding from the Government.
The Chancellor, as part of the support package, announced that a one-off grant of £10,000 will be provided to eligible small businesses currently eligible for SBRR or rural rate relief in order to help meet their ongoing business costs.
The funding is set to be provided initially to local authorities by the Government in early April and eligible businesses will be contacted by their local authority and will not need to make any formal application for the grant.
In addition, all hospitality, retail and leisure businesses in England will be given a 12 months business rates holiday and those with smaller premises with a rateable value between £15,000 and £51,000 will also be eligible to receive, via their local authority, a cash grant of up to £25,000.
Support for businesses paying sick pay to employees
It has additionally been announced that legislation is set to be introduced to allow small and medium-sized businesses and employers to reclaim statutory sick pay ("SSP") paid for sickness absence due to COVID-19.
Employers with fewer than 250 employees (as of the 28th February 2020), will be eligible for this relief which will cover up to two weeks SSP per employee. As well as SPP paid, eligible employers will also have the ability to reclaim any expenditure for any employee who has claimed SPP as a result of the virus.
Employees will not be required to provide a GP fit note, however it is advised as best practice for employers to maintain records of staff absences and payments of SSP.
There is no definite date as to when the support will come into force, however the Government has stated that the eligible period of the scheme will commence the day after the regulations on the extension of the SSP to those staying at home comes into force.
Delay in extension off-payroll working rules to the medium and large size businesses in the private sector
The Chief Secretary to the Treasury, Steve Barclay, also announced in the House of Commons last night that the extension of the off-payroll working rules to large and medium sized businesses within the private sector is to be postponed until April 2021.
These rules shift the burden of assessing whether or not contractors who provide their services via intermediaries such as personal service companies or agencies from the contractor's intermediary to the client and the delay in the extension of these rules to medium and large sized businesses in the private sector (having been implemented in the public sector in 2017) will be a welcome respite for those businesses who rely on contractors.
Time to Pay
As well as the tax measures summarised above, all businesses and self-employed people with outstanding tax liabilities may be eligible to receive support through the HMRC's Time to Pay service.
It should be noted that these arrangements are decided on a case-by-case basis and are tailored to individual circumstances and liabilities. The Government website states that if you are concerned about paying tax due to COVID-19, call the HMRC's dedicated helpline on 0800 0159 559.
Points to note
Although the tax reliefs and assistance may seem like a lifeline to many businesses, insurance policies should be checked and directors should consider carefully the implications of further borrowing on cash flow in the longer term.
There is no guarantee as to when the economy or businesses will get 'back to normal'. It is important to ensure that the correct advice is taken before undertaking any measures which may impact your business further down the line.
It should be noted that more information is likely to come to light in the next few days and weeks and these announcements may be subject to change at any point in time. For the most up to date announcements, please keep an eye on the Government website.
If the content of this update raises any issues for you, or you would like to discuss, please liaise with Duncan Reid at duncan.reid@weightmans.com or Kirsty Adamson at kirsty.adamson@weightmans.com.
Coronavirus
View our latest guidance on how to plan, prepare and protect your organisation.
Read our guidance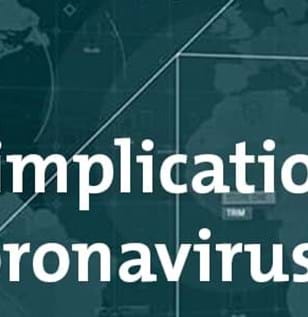 More articles by Duncan Reid
Sectors and Services featured in this article