COVID-19: Update on Funding
Today we have had incredibly encouraging and detailed updates from the British Business Bank and the CBI in connection with access to finance.
Please see below an update on some of the various schemes:
CBILS (businesses with no greater than £45million turnover)
It needs to be recognised that this is developing very quickly and British Business Bank acknowledge that in trying to ensure this hit the market as soon as possible there may have been mixed messages. They have been working tirelessly to ensure this is as accessible as possible to businesses which are eligible.
One of the key concerns of businesses trying to access this is
to ensure they approach the right funders (visit the British Business Bank website here) 
confirmation on the position on security and whether the funders are requiring it.
It needs to be remembered that CBILS is a loan and therefore repayable. To expand on point (2) above – currently the Government is not guaranteeing 100% of the loan so the individual funders who are distributing CBILS are (in some but not all cases) asking for personal guarantees ('PG') and security. This can be for a variety of sound reasons, including risk profile of the applicant business prior to these challenging times.
There is no requirement for a funder to take a PG, but where they do (and the British Business Bank understands why they might) British Business Bank are very clear that primary residences of individuals should NOT be being taken as security (or enforced against to support a personal guarantee).  
A very helpful link to the Coronavirus Business Interruption Loan Scheme (CBILS) website can be found here which provides clear information on eligibility/lenders/information on CBILS.
'Gap' businesses (businesses which are in excess of £45 million turnover but are not of the scale to access Covid Corporate Financing Facility
The Government recognises that there is a gap here which leaves businesses of this size currently ineligible for support. They want to reassure these businesses that they are looking to create a scheme/product to assist.  
They have asked (via CBI) that businesses in this space contact them to assist in ensuring a product is created that is fit for purpose. Contact them via email at coronavirussupport@cbi.org.uk
Businesses in this space can assist by sharing examples of specific challenges they are facing, what facility they think they would need, how long for, current turnover and so forth. They want input from as many businesses in that space as possible and are assuring us that they hope to provide more information on support as soon as they can.
Covid Job Retention Scheme
Further advice and guidance on this will be provided today as to how this will work in practice. 
If you would like to discuss any detail in this update further please contact Patricia Grinyer by email at Patricia.Grinyer@Weightmans.com who will be happy to help or your usual Weightmans contact.
Coronavirus
View our latest guidance on how to plan, prepare and protect your organisation.
Read our guidance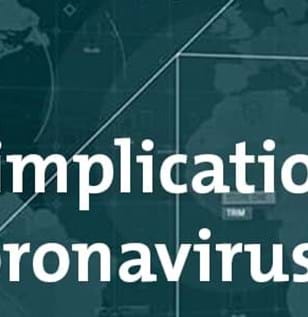 Sectors and Services featured in this article