Emerging from quarantine - back to work?
We've outlined what we consider are three key areas for businesses to focus on in the challenge of returning to work, however that may look.
The impact of the coronavirus pandemic has been felt across all areas of our lives, not least how we work. Organisations have been affected in many different ways, depending on the sector in which they operate, with new methods of working being developed where possible. Those who have been able to equip staff to work from home have had to quickly adapt to remote working, virtual meetings and developing ways of communicating. However, this won't last forever and employers are now thinking about how to go forward when restrictions are eased.
The Prime Minister's announcement on Sunday, which changed the message in England from 'stay home' to 'stay alert', advised that those who can work from home should continue to do so, whilst those who cannot work from home should return to work, where possible – although avoiding public transport. The announcement has been criticised for its lack of clarity, further aggravated by other countries within the UK sticking to the 'stay home' message.
We've outlined what we consider are three key areas for businesses to focus on in the challenge of returning to work, however that may look.
Positive engagement and inclusion
It's not "business as usual", so adapt how you engage with your staff. One of the more positive outcomes of this pandemic is the sense of kindness, support and togetherness we are showing each other. There is a lot more compassion and empathy infiltrating the workplace and this is imperative now more than ever; businesses focusing on the health and wellbeing of their staff will continue to see better engagement and support whilst reinforcing the message that meaningful communication is absolutely key.
Now is the time to understand what's going on with your employees beyond work; how are they coping?  Do they have childcare or elder responsibilities?  What challenges do they have?  Should you be discussing any adjustments to their role, days or hours of work to assist? 
Organisations should be considerate in all workforce engagement and communication. Involving staff in decisions; having regular contact; requesting insight and ideas; and utilising tools such as  surveys will help foster positive engagement and allow businesses to gain insight into how staff feel about returning to work, generate new ideas for business and ways of working and help formalise a plan going forward.
Prepare: what are your practical and operational requirements?
Employers must carry out a COVID-19 risk assessment and ensure protective measures are put in place before staff can return to the workplace. Employees will have legitimate concerns over issues such as travelling on public transport, being in contact with others in the workplace and using common areas such as toilets and kitchens. Workers are entitled to work in environments where risks to their health and safety are properly controlled and their surroundings must now also be 'COVID-19 secure'.
There is huge responsibility on employers to ensure the health and safety of staff and specifically a legal duty to ensure that they do all that is reasonably practicable to minimise health and safety risks. This duty is further intensified by the Prime Minister expressly encouraging workers to report breaches to the HSE and local authorities.
The level and type of measures that  are required will vary depending on business type and sector. Reasonable measures to consider will include enforcement of social distancing; using physical barriers such as Perspex screens where suitable; providing face masks; having staggered start, finish and breaks times; using one-way-flow systems; limiting the use of common areas; and ensuring sufficient hand wash and sanitiser is available. Some businesses are also looking at expanding their floor plan with additional space and/or modular buildings whilst others have also considered thermal scanners and anti-bacterial mists to periodically sanitise the workplace.
To assist with the practical aspects of returning to work, the Government has published a series of guides to help employers, employees and the self-employed understand how to return to work and to work safely during the coronavirus pandemic.
Managing and pre-empting difficult conversations
Think about how you're going to deal with difficult conversations – they're coming.
Despite the best efforts of employers to effectively communicate that it is safe to return to work, there may still be some individuals who are reluctant to come back. Although an employee would have to show that they reasonably believed they were in serious and imminent danger in order to legitimately refuse to come to work, businesses should try to  avoid even getting to that stage. Ensure you are clear and confident in your message.  What risk-assessment have you carried out?  What measures have you implemented to reduce the risks posed by COVID-19?  Why do you think it is safe to return to work? How have you communicated your findings?  If you address these areas and effectively communicate with staff well in advance of any return to work, it will stand you in good stead for readying the workforce and pre-empting any initial objections. 
If an employee does not want to return because of genuine fears relating to COVID-19, this should be taken seriously and managed on a case by case basis.  A 'one size fits all' response is not advisable. A sensible and cautious approach will help avoid claims that the business is not COVID-19 secure and any negative PR that may follow.  Additionally, be alive to the fact that health and safety and/or whistleblowing claims may be raised by employees as a direct response to how employers deal with any apprehension or refusal to return to work.
Before considering dismissing employees who refuse to return to the workplace, employers should seek legal advice. Employment tribunal claims can be raised by employees who do not have the requisite two years' service on account of this being a complex and multi-faceted area most likely to involve a number of considerations such as whistleblowing, health and safety, disabilities, discrimination and/or childcare obligations.
Workers should not be forced to return to work; they should only be asked to return when it is necessary, no other option exists and it is safe and mutually agreed.
Going forward
Employers must be cautious and recognise that, as well as ensuring their physical health and safety, the mental wellbeing of employees is paramount. This is something that has been at the forefront of much of the commentary and press surrounding COVID-19. Unprecedented times bring unprecedented stresses and strains,  and encouraging and maintaining positive culture and values will help during these challenging times.
Many organisations are now questioning their way of working and how they can successfully create a more adaptive, innovative and resilient workforce. Getting this right is critical to not only the viability of any business going forward but also the health and continued support of its people.  Without your people, there is no business.
Carolyn Bowie is a Trainee Solicitor in the Employment, Pensions and Immigration Team at Weightmans based in Glasgow. If you have any questions, please do not hesitate to contact Carolyn at carolyn.bowie@weightmans.com or Ingrid McGhee, Partner at ingrid.mcghee@weightmans.com. 
Coronavirus
View our latest guidance on how to plan, prepare and protect your organisation.
Read our guidance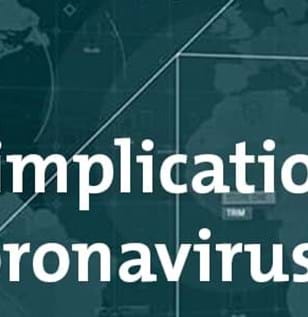 More articles by Ingrid McGhee
Sectors and Services featured in this article