The Coronavirus Job Retention Scheme: updated guidance
The Government has released an updated version of the guidance, providing further details of the Coronavirus Job Retention Scheme.
The Government has released an updated version of the guidance, providing further details of the Coronavirus Job Retention Scheme ("CJRS").
There are some important areas that still require clarification, but this updated guidance is nevertheless welcome and seeks to resolve some important questions relating to the CRJS.
We have commented upon what we consider to be the highlights below.
The guidance confirms that to benefit from the CRJS, an employer must have:
created and started a PAYE payroll scheme on or before 28 February 2020
enrolled for PAYE online - this can take up to 10 days
a UK bank account
Key Issues of Clarification
Eligibility
The new guidance clarifies that the scheme is open to employees who were employed on 28 February 2020 but have since left for reasons other than redundancy. It remains the case that "employees hired after 28 February 2020 cannot be furloughed and claimed for in accordance with this scheme."
If an employer made employees redundant, or they stopped working for the employer on or after 28 February 2020, the employer can re-employ them, put them on furlough, and claim for their wages through the scheme.
This could arguably also include those who were dismissed for conduct related reasons, so employers might well start receiving requests from employees who they do not wish to re-employ , as well as from those who left for perhaps 'better' reasons such as a promotion. Employers are not obliged to re-hire leavers, but will need to be careful when considering such requests, particularly so as to avoid allegations of discrimination. If there was a sound, non-discriminatory reason for the dismissal at the time, then that should still hold true now. The risk increases if an employer chooses to take some dismissed employees back, but not others. That would inevitably require analysis of the specific reason and circumstances in each case. Employers will also wish to consider issues such as continuity of service.
Rotation
The updated guidance confirms our understanding that rotating employees in and out of furlough is possible.
Any employees placed on furlough must be furloughed for a minimum period of 3 consecutive weeks. When they return to work, they must be taken off furlough. Employees can be furloughed multiple times, but each separate instance must be for a minimum period of 3 consecutive weeks.
Multiple jobs
Employees who have two jobs can be furloughed from each job. We already knew this.
Interestingly, an employee who is furloughed (and getting 80% of their normal pay) can undertake new paid employment elsewhere, thereby potentially earning 180% of what they previously earned.
This was a big surprise and is presumably intended to free up the workforce to be able to undertake paid jobs that will support the coronavirus response, for example within the NHS.
Record keeping
We already believed that HMRC would be likely to audit the furloughing of employees in due course. The updated guidance now states that to be eligible for the grant employers must confirm in writing to their employee confirming that they have been furloughed.
A record of this communication must be kept for five years.
The guidance does not specify how this will apply in a collective bargaining context.
Other Matters
Employees self-isolating, on sick leave, shielding or with caring responsibilities
An employee on sick leave or self-isolating, remains entitled (subject to the statutory rules) Statutory Sick Pay.
Employers cannot claim for employees while they're getting Statutory Sick Pay, but they can be furloughed and claimed for once they are no longer receiving Statutory Sick Pay.
It does not appear that employers will be able to make a claim under the furlough leave scheme for any element of additional company sick pay paid to an employee.
Employers can claim for furloughed employees who are shielding in line with public health guidance (or need to stay home with someone who is shielding) if they are unable to work from home and would otherwise have to be made redundant.
Employees who are unable to work because they have caring responsibilities resulting from coronavirus (COVID-19) can be furloughed. For example, employees that need to look after children can be furloughed.
Company Directors
We understood from previous guidance that company directors could be furloughed. This has now been confirmed . They may continue to comply with their statutory duties during furlough, but the extent of this remains unclear and we recommend seeking advice.
The updated guidance says:
"As office holders, salaried company directors are eligible to be furloughed and receive support through this scheme. Company directors owe duties to their company which are set out in the Companies Act 2006. Where a company (acting through its board of directors) considers that it is in compliance with the statutory duties of one or more of its individual salaried directors, the board can decide that such directors should be furloughed. Where one or more individual directors' furlough is so decided by the board, this should be formally adopted as a decision of the company, noted in the company records and communicated in writing to the director(s) concerned.
Where furloughed directors need to carry out particular duties to fulfil the statutory obligations they owe to their company, they may do so provided they do no more than would reasonably be judged necessary for that purpose, for instance, they should not do work of a kind they would carry out in normal circumstances to generate commercial revenue or provides services to or on behalf of their company.
This also applies to salaried individuals who are directors of their own personal service company (PSC)."
Limb (b) Workers
Where Limb (b) Workers are paid through PAYE, they can be furloughed and receive support through this scheme. For those who pay tax on their trading profits through Tax Self-Assessment, they may be eligible for the Self-Employed Income Support Scheme (SEISS) instead.
Apprentices
Apprentices can be furloughed and they can continue to train whilst furloughed.
Employers must pay apprentices at least the Apprenticeship Minimum Wage, National Living Wage or National Minimum Wage (AMW/NLW/NMW) as appropriate for all the time they spend training. This means the employer must cover any shortfall between the amount they can claim for their apprentices' wages through the scheme and their apprentices' appropriate minimum wage.
Public sector organisations
The updated guidance repeats that in most circumstances employers who continue to receive funding should continue to pay their employees from that funding rather than furlough them. Further clarification for public sector organisations would be welcome.
Individuals
Subject to the other rules of the scheme, such as those relating to PAYE, individuals who employ nannies, cleaners etc. can furlough them.
Administrators
In respect of Administrators, the updated guidance says: "Where a company is being taken under the management of an administrator, the administrator will be able to access the Job Retention Scheme. However, we would expect an administrator would only access the scheme if there is a reasonable likelihood of rehiring the workers. For instance, this could be as a result of an administration and pursuit of a sale of the business."
Matters requiring clarification
In our view, there are still areas that require further clarification, in particular:
Whether employees can take annual leave during a period of furlough leave and if so what they should be paid
What happens to employees who TUPE in to a business after 28 February 2020
Precisely what company directors will be allowed to do whilst furloughed
Nick Newman is a Principal Associate in the Employment, Pensions and Immigration at Weightmans LLP. If you have any questions or concerns please do not hesitate to contact Nick at nick.newman@weightmans.com or speak to your usual Weightmans advisor.
Coronavirus
View our latest guidance on how to plan, prepare and protect your organisation.
Read our guidance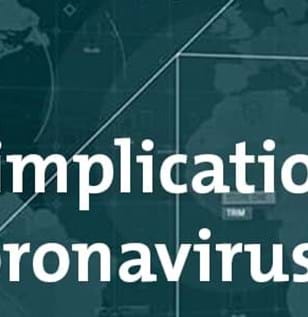 Sectors and Services featured in this article