The Pensions Regulator announces emergency measures
We consider some of the issues that trustees and employers could face and offer guidance on the best courses of action.
The ongoing COVID-19 crisis has created an extremely challenging environment for businesses and has plunged the global financial markets into a state of turmoil. The interaction between these two factors is liable to create a perfect storm of pension related problems. This note considers some of the issues that trustees and employers could face and offers guidance on the best courses of action.
The Weightmans pensions team is already advising clients on dealing with the fallout from the crisis, and we remain committed to providing clients with our usual high standard of service during this difficult period.
Immediate concerns for all trustees and employers
The Pensions Regulator (TPR) has indicated that it expects trustees of both defined benefit and defined contribution schemes to focus their efforts on the immediate risks posed to their schemes by the unfolding COVID-19 turbulence. It is imperative for trustees to ensure that payments are still being made to pensioners, retirements are still being processed and bereavement awards are still being made. Trustees are expected to liaise with service providers in order to establish that they have a business continuity scheme in place to facilitate these priority functions. By the same token, employers are expected to have in place a business continuity plan with a view to continuing to meet their pension obligations. Crucially, both trustees and sponsoring employers should ensure they have sufficient key people available to enable critical decisions to be taken in a timely manner.
It is recommended that trustees should critically assess the business continuity plans of sponsoring employers in order to verify their adequacy; professional assistance in this regard could be considered. Ideally, trustees will have already done this as part of their continuing risk assessments. If necessary, a corporate distress action plan should be devised and trustees should ensure that due regard is paid to the interests of the scheme.
Simultaneously, trustees must have particular regard to a number of matters that, in any event, are considered key risks by TPR. In particular, the value of schemes' investments and the strength of employer covenants may have been compromised by the COVID-19 crisis and trustees ought to consider their obligations in light of such developments.
Due to the uncertainty in the markets it is likely that trustees will be faced with increasing enquiries from members looking to transfer benefits out of schemes. Unfortunately, a 400% increase in COVID-19 related scams has been reported during the course of March. Trustees must therefore be alive to the risk of fraud and urge their members to exercise extreme caution if seeking to transfer funds out of schemes. Trustees are recommended to advise any would-be transferring members to consult the ScamSmart website.
TPR has intimated that minor administrative infractions are likely to be forgiven, in light of the prevailing circumstances, with the focus being on getting employers and trustees back on the right track. Nevertheless, employers and trustees should aim to continue to adhere to appropriate standards of governance and follow usual protocols as far as is possible.
Defined contribution schemes
Trustees should bear in mind that market uncertainty may tempt members to make ill-advised investment decisions, opt-out of schemes and crystallise losses. Trustees also need to review and manage specific risks that may now have arisen within their portfolios in respect of certain sector exposures and concentrations within particular funds,
Investment governance provisions should be reviewed in order to ensure that schemes can continue to function and make decisions in the event of reduced trustee capacity.
With regard to furloughed employees in defined contribution schemes, the government has confirmed that employers will remain liable for minimum automatic enrolment contributions on the 80% subsidised wage. However these pension contributions can also be recovered from the government. If the employer chooses to 'top-up' salary to 100%, government guidance makes clear that any automatic enrolment contributions based on that top-up salary will not be refunded.
The guidance also states that employers cannot claim any voluntary automatic enrolment contributions above the minimum. It is unclear whether affected employers who were making contributions above the minimum level will be required to continue making such payments. There may be contractual issues to consider for employees in receipt of employer contributions in excess of the minimum required under the automatic enrolment legislation.
In terms of an easement, TPR does not appear to have explicitly stated that one will be in place for defined contribution schemes. Instead, TPR has indicated that it appreciates some schemes may struggle to meet statutory deadlines or comply with statutory requirements and that it will continue to take a pragmatic approach, using discretion, where possible, to decide whether it would be appropriate to take action regarding specific breaches. Trustees are therefore perhaps best advised to continue complying with their obligations as far as possible and ensure that any breaches are reported to TPR.
Defined benefit schemes
Given the cash flow issues being experienced by many businesses and the drastic fluctuations in the value of scheme investments we anticipate that many employers are likely to be experiencing issues with their contributions to defined benefit schemes. TPR has now released detailed guidance to assist trustees confronted with this issue. However, it remains unclear what effect, if any, the government's furlough guidelines will have on the defined benefit obligations of affected employers. The position is likely to vary from scheme to scheme depending on a range of factors including its status, the rules and the terms of the schedule of contributions.
TPR has confirmed that it cannot waive trustees' statutory obligations but that it will not take any regulatory action in respect of either late reporting or failure to make contributions during the next three months. In effect, this has granted trustees a breathing space within which they can take stock of the scheme and employer positions with a view to safeguarding the long term interests of the scheme. Trustees, however, need to remain acutely aware of the issues surrounding negative cash flow. A deferral will do little to ameliorate any such issues and could force trustees into selling scheme assets at depressed prices. The obligations to schemes and members must therefore remain at the forefront of trustee minds.
Trustees have been urged to ensure that any deferral of employer contributions is part of a co-ordinated approach across all key stakeholders. TPR will therefore likely take a dim view of any trustees and employers who seek to defer pension contributions but do not seek similar relief from other parties such as creditors and shareholders.
Trustees may wish to commission independent advice on covenant strength and should continue to ensure that any advice and decisions are fully documented. If trustees opt to make their own covenant assessment they should fully document their reasons for not seeking external advice and also their assessment/conclusions as to covenant strength. Trustees also need to be aware of the risk of missed contributions inadvertently triggering a winding-up of a scheme; this is one area where legal advice can be particularly helpful.
Where sufficient information is not available to make a fully informed decision, trustees should, where appropriate, agree to requests to suspend or reduce contributions for as limited a period as possible while appropriate information is being provided. Any suspension or reduction should not typically exceed three months as TPR hopes that by that time more reliable covenant visibility may be available. A condition of this agreement should be full and ongoing provision of information so that trustees can continually monitor the employer covenant. The less confident the trustees are that they will have access to timely, relevant information, the shorter the reduction or suspension period should be. Particular care should be taken by trustees where contributions in the proposed suspension period are substantial. It may also be possible to defer for a longer period where a comprehensive and compelling business case can be made to that effect, with such an arrangement ideally being underwritten by a suite of protections.
Should a deferral be agreed, the regulator expects that dividends and other forms of shareholder return are suspended together with other forms of value leaving the business, with such compromises being entrenched in a legally binding agreement between the employer and trustees.
The following principles should therefore be borne in mind when considering whether to agree to a deferral:
Assessment of need: Trustees are urged to liaise with employers in order to establish their cash flow and to verify that payments are not being made to shareholders or related entities in order to avoid the interests of the scheme being unfairly prejudiced. This may require employer covenant advice if information is not shared freely;
Flexibility: Any deferral/suspension should have an end date and an undertaking to recommence contributions before the end date if trading improves earlier than expected;
Pragmatism: Trustees should appreciate the dynamic nature of the current situation, any concessions should be strictly short term
Fairness: Trustees should consider whether lenders are being supportive. If possible, it should be ensured that the scheme has the support and security that other stakeholders are being provided with;
Advice: Trustees should take heed of advice, both covenant and legal.
Trustees close to completion of a valuation are not expected to revisit their valuation assumptions, nor are trustees who have completed their valuations required to take account of post-valuation experience. However, if agreeing a recovery plan, TPR has stated that trustees ought to factor the COVID-19 outbreak into that process with particular focus on whether any provisionally agreed deficit repair contributions remain viable. TPR has confirmed that recovery plan submissions can be delayed by up to three months without the threat of regulatory action for failure to submit.
Understandably, trustees may be met with increasingly frequent transfer requests from members. TPR has advised that trustees may wish to suspend transfer quotations and/or transfer payments in order to review transfer terms and gauge the administrative impact of increased demand for transfer quotes. As with employer contributions, TPR has declared a three-month easement for trustees failing to disclose transfer information to members.
The prevailing circumstances are highly dynamic so it is therefore likely that the landscape will continue to shift over the coming months. However, in the immediate term the easements provided by TPR should offer some much needed flexibility to trustees and employers although caution should still be exercised when considering making use of an easement.
Should you require any assistance with the pensions implications of the Covid-19 crisis please do not hesitate to get in touch with your usual Weightmans contact or Mark Poulston, Partner at mark.poulston@weightmans.com, Ian O'Toole, Partner at ian.o'toole@weightmans.com, or Luke Millington, Trainee Solicitor at luke.millington@weightmans.com.
Coronavirus
View our latest guidance on how to plan, prepare and protect your organisation.
Read our guidance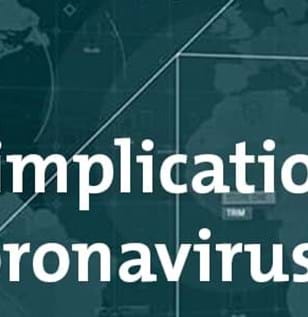 More articles by Mark Poulston
Sectors and Services featured in this article