As of 11 April, HMCTS had indicated that up to 3,000 hearings a day were being conducted remotely. Lawyers involved in some of the remote hearings…
With the UK's coronavirus lockdown extended at least to 7 May and social distancing measures to remain in place potentially for many months, Partner James Denison reviews the steps being taken to keep legal business moving forward when face-to-face contact becomes impossible.
Social distancing presents obvious and significant challenges to a legal system reliant largely on hearings and meetings conducted in person to resolve disputes. This note considers developments since late March concerning the resolution of commercial disputes during the coronavirus lockdown to provide a concise guide for businesses, insurers and legal professionals wondering how to keep legal matters moving as the physical world grinds to a halt.
Fortunately, modern computing and communication technology has allowed many legal businesses to adopt equally modern working practices which now provide some insulation from the worst effects of social distancing. While originally aimed at reducing overhead costs and enhancing staff wellbeing, a move towards agile working has eased lawyers' transition to full-time home working under lockdown, enabling much legal work to continue uninterrupted. Working from home is not without its own challenges, however: for example, firms have advised staff to turn off smart speakers so that they cannot be used by hackers to capture sensitive information.
Remote hearings
Greater difficulty arises when parties engaged in a dispute would previously have met face-to-face across a table or in court. On 25 March, the trial of Conversant Wireless Licensing SARL v Huawei Technologies Co Ltd and others was adjourned until October at the earliest. Despite the claimant's proposal to proceed largely on paper with any questions to be raised by the judge via Skype, HHJ Hacon found that any prejudice caused by delay was outweighed by the principle of open justice and the need for the parties to be able to call and cross-examine witnesses. The court also found that neither the CPR nor the guidance of the Lord Chief Justice or Lord Chancellor at that time would permit trials of such cases to be conducted largely on paper.
In other instances, technology has been used to overcome these hurdles. On 24 March the Supreme Court heard the matter of Fowler (Respondent) v Commissioners for Her Majesty's Revenue and Customs (Appellant) via video conference and on 26 March the trial of a claim by The National Bank of Kazakhstan and The Republic of Kazakhstan, allegedly worth $530 million, began in the Commercial Court with all participants (including interpreters) involved remotely via Zoom and the proceedings streamed on YouTube. Family Court business is being conducted successfully via Skype. As of 6 April, the Solicitors Disciplinary Tribunal has also begun conducting hearings via video conferencing.
Rules and official guidance
The Government's response to the issue includes temporary amendment of the Courts Act 2003 via s.55 and Schedule 25 of the Coronavirus Act 2020, concerning public participation in proceedings conducted by video or audio, and provision for people to leave home and gather in groups of two or more where reasonably necessary to participate in legal proceedings pursuant to the Health Protection (Coronavirus, Restrictions) (England) Regulations 2020. With specific reference to civil procedure, the 116th update of the CPR makes provision for video or audio hearings during the pandemic in the form of Practice Direction 51Y, which provides for hearings to be conducted in private if necessary to secure the proper administration of justice (such hearings to be recorded where practicable) and also provides that hearings will be deemed to be public where a media representative is able to access proceedings remotely while they are taking place. The 118th update and Practice Direction 51ZA concern extension of time limits during the pandemic, with extensions of more than 56 days requiring court approval and a requirement that courts take account of the pandemic in considering such applications, as well as applications for adjournment and relief from sanction. A detailed Protocol for remote hearings has also been published.
On 6 April, John Kimbell QC, sitting as a Deputy High Court Judge in the Chancery Division, took account of these developments when refusing to adjourn the five-week trial of a claim for £250 million by the liquidators of One Blackfriars Ltd, which is due to start in June and involves factual and expert witness evidence. The parties were instead ordered to investigate technological solutions despite submissions that the technological challenges were too great and it would generate procedural unfairness, with the judge referencing recent examples of remote hearings that had proceeded effectively. Ultimately, the judge found that it is up to the parties involved to test the systems to be used, indicating that any parties seeking adjournment will now have to demonstrate that such tests have been undertaken and have been unsuccessful.
Mediation
If technology can successfully facilitate remote court (or arbitration) hearings, even on the largest scale, then of course the same technology should be able to facilitate joint settlement meetings and mediations, which should represent a far more straightforward proposition than a substantial multi-party trial involving factual and expert witness evidence. Many practitioners will have heard from their mediator contacts with details of how mediation can be progressed remotely and I see no reason why most mediations should not progress much as they did before coronavirus. Indeed, remote attendance will remove the need for parties to agree on a single location for the mediation, it will remove travel expenses and may even expand the range of mutually convenient dates on which a mediation might take place. Of course, great care should be taken to ensure that mistakes are not made when switching between joint sessions and private sessions.
The future
As of 11 April, HMCTS had indicated that as many as 3,000 hearings a day were being conducted remotely. Lawyers involved in some of the remote hearings arranged in response to the coronavirus outbreak have already commented that the format may be here to stay even after the virus has been brought under control. Guidance on remote working has been issued by various industry bodies including FOIL and APIL. Inevitably, technology is also being used to facilitate remote hearings in jurisdictions around the world. The Society for Computers and Law, which is supported by HMCTS, is tracking the use of online courts around the world via its website remotecourts.org. The project is led by Professor Richard Susskind, who has a high profile in the field of AI applied in a legal context. It seems most unlikely that all of this, which many would regard as progress, will be thrown away just because we have moved past coronavirus.
The use of peripheral technologies required to facilitate remote hearings such as electronic bundling has the potential to generate significant improvements in court efficiency and, as with legal businesses, HMCTS may find that remote hearings offer advantages in the form of reduced operating costs. While the circumstances driving these innovations at their current pace are extraordinarily harsh, they are causing significant and rapid progress in the way that legal business is handled. Lawyers and litigants currently have no option but to grapple with the technology and the relevant guidance if they wish to avoid significant delay while the coronavirus outbreak is brought under control. However, remote working offers significant potential benefits in terms of cost, efficiency, flexibility and data security which I suspect will encourage ever greater use of remote hearing opportunities even after the lockdown ends.
Updated 24 April 2020
Further to my article above concerning remote hearings, there have been some further developments worth noting.
In the matter of Municipio de Mariana & Others v BHP Group Plc and others concerning the collapse of the Fundão Dam in Brazil in November 2015, HHJ Eyre QC sitting in the TCC considered an application by two of the defendants for an extension of time for service of evidence which, if granted, would result in the vacation of the hearing of an application to stay the proceedings on jurisdictional grounds which had been listed for hearing on 8 June.
As stated in the judgment, "The hearing of the application for an extension of time was conducted remotely by way of Skype and in private pursuant to CPR PD51Y with the concurrence and cooperation of the parties." The Judge "was satisfied that a remote hearing was necessary if the application was to be determined swiftly and that it was in the interests of justice for there to be such swift determination. It was not possible to broadcast the hearing in a court room and it was necessary for the hearing to be in private to secure the proper administration of justice."
The matter is noteworthy given its scale: "the claims are brought on behalf of an extraordinarily large class of claimants. There are about 202,000 individual claimants together with about 530 private businesses or foundations, 25 municipalities, 15 churches and faith-based institutions and the archdiocese of Mariana, about 145 individuals from the Krenak indigenous community and 5 utility entities."
As for the Judge's analysis, he referenced the overriding objective of the CPR, Practice Direction PD51ZA paragraph 4, the protocols and guidance issued in relation to the coronavirus outbreak and the decisions of Teare J in National Bank of Kazakhstan v Bank of New York Mellon and John Kimbell QC in Re One Blackfriars Ltd, as discussed in my previous article. Reference was also made to the unreported case of Re Smith Technologies (26 March 2020) in which Judge Jones also rejected an application to adjourn a trial since, as summarised by HHJ Eyre QC, "the difficulties arising from self-isolation and from parties and their lawyers being in different locations were to be addressed robustly and that the parties were to be expected to take proactive measures to overcome such difficulties".
The judgment sets out nine principles in light of that material against which the defendants' application was to be assessed, which are (in summary):
The objective must be to be keep to existing deadlines where achievable and to permit the minimum extension of time which is realistically practicable where that is not realistically possible.
The court can expect legal professionals to make appropriate use of modern technology.
Lawyers can be expected to go further than they might otherwise be expected to go in normal circumstances and particularly is this so where there is a deadline to be met (and even more so when failing to meet the deadline will jeopardise a trial date).
The approach which is required of lawyers can also be expected from those expert witnesses who are themselves professionals.
The court should be willing to accept evidence and other material which is rather less polished and focused than would otherwise be required if that is necessary to achieve the timely production of the material.
Care must be taken to avoid requiring compliance with deadlines which are not achievable even with proper effort.
The court must be conscious that it is likely to take longer and require more work to achieve a particular result by remote working than would be possible by more traditional methods.
The court must have regard to the consequences of the restrictions on movement and the steps by way of working from home which have been taken to address the pandemic.
Those factors are to be considered against the general position that an extension of time which requires the loss of a trial date has much more significance and will be granted much less readily than an extension of time which does not have that effect.
HHJ Eyre QC was ultimately satisfied that "even when all proper allowance is made for the use of technology and for the making of extra efforts the exercise of preparing the reply evidence will take significantly longer than was provided for in the [original] timetable" and that "justice requires that the Defendants be given an extension of time … notwithstanding the consequence which this will have of the vacation of the hearing listed for 8th June 2020."
Of greater significance with regard to the issue of remote hearings, the Judge relisted the substantive jurisdiction application hearing for 20 July 2020 with an eight-day time estimate and with provision for pre-reading from 14 July 2020 to take account of the possibility that the hearing may have to proceed remotely, despite the fact that the case is "a complex matter of considerable importance to the parties", with "substantial documentation to be mastered, presented, and analysed". The Judge found that this is "clearly a matter which is capable of being fairly determined in a remote hearing" because "the determination of the issue will involve judicial reading of that material and of the parties' skeleton arguments with subsequent oral submissions and argument" and there will be no live evidence. Following the lead of National Bank of Kazakhstan, this latest decision demonstrates that judges will expect even the most gargantuan litigation to be dealt with remotely if at all possible.
That last point concerning live evidence is crucial, however, and it picks up one of the reasons given by HHJ Hacon for adjourning the trial of Conversant Wireless Licensing SARL v Huawei Technologies Co Ltd, referenced in my previous note. As I also previously stated, there have been reports of remote hearings being conducted successfully in a family law context. However, the President of the Family Division, Sir Andrew McFarlane, has recently commented in Re P (A Child: Remote Hearing) that it was "impossible to contemplate a final hearing of this nature, where at issue are a whole series of allegations of factitious illness, being conducted remotely". While he considered that a judge in such a case may be able to cope with the cross-examination and the assimilation of the detailed evidence from the e-bundle and from the process of witnesses appearing remotely, Sir Andrew found that the more important part of the judicial function in such circumstances "is for the judge to see all the parties in the case when they are in the courtroom, in particular the mother, and although it is possible over Skype to keep the postage stamp image of any particular attendee at the hearing, up to five in all, live on the judge's screen at any one time, it is a very poor substitute to seeing that person fully present before the court". Accordingly, conducting such a hearing remotely would generate "a significant risk that the process as a whole would not be fair". Clearly there are cases where the assessment of witness evidence in person is crucial to the fair determination of the matter and in such cases an adjournment should be expected.
If you would like to discuss further, please liaise with James Denison, Partner on 020 7822 1943 or at james.denison@weightmans.com.

Coronavirus Advice, Response & Emergency Support
At this time of major disruption globally, we believe it is more important than ever for us to stand shoulder to shoulder with our insurance clients and their customers. We have therefore developed CARES, an advice, response and emergency support service which guarantees rapid access to expertise in respect of critical business issues that are currently overwhelming many industries due to the pandemic.
Whether it's strategic advice at board level; help with operational challenges around employment or commercial contracts; or assistance with triaging notifications, coverage advice or claims resolution, our national team of experienced lawyers stands ready to help with the speed, empathy and clarity required in a crisis.
Let us care for you and your policyholders. Send us an enquiry to speak to our Priority & Complex advice team, book onto the virtual clinic or set up a call to discuss a virtual secondment by accessing our booking and enquiry portal. 
Coronavirus
View our latest guidance on how to plan, prepare and protect your organisation.
Read our guidance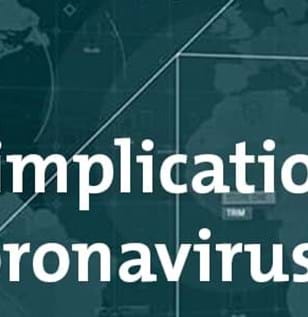 Sectors and Services featured in this article