Weightmans extends period of free advice to NHS on Covid-related employment queries
Weightmans has given free coronavirus employment law advice to the NHS since March and has extended the scheme until 2021
National law firm Weightmans will continue to provide employment advice relating to Coronavirus to the NHS for free as the demand for the service spikes again.
The firm has been offering this service to the NHS since the beginning of lockdown in March 2020, welcoming two new experts to the firm the same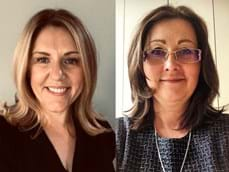 month. Kate Shute (pictured left) and Suzanne Nulty (right) are healthcare employment specialists with over 30 years' combined experience in the field, who joined the firm's Liverpool office from Hill Dickinson as the global pandemic took hold. Enquiries around employment law in the NHS rocketed immediately and as the NHS worked under intense strain, the firm offered HR and employment law advice involving coronavirus free of charge.
With a second wave now imminent, and further questions around workforce planning, partial school closures, holiday woes, 'flu immunisation and working within the 'new normal', the firm has extended this offer until 2021.
Emlyn Williams, who heads up the healthcare employment team said:
"The NHS has faced pressure like we've never seen before and this looks likely to intensify again over the coming weeks. Although no one anticipated or welcomed the circumstances we found ourselves in, we have tried to do our bit by offering free employment advice on COVID queries to our NHS clients. It's been brilliant having Suzanne and Kate on board to assist with this increase in demand. They have a wealth of experience in advising the NHS and enabled us to mobilise quickly and respond to urgent concerns and confusion.
"We quickly established a working group and have circulated regular bulletins so HR and legal teams within the NHS have the most up to date information. Take up and feedback has been fantastic and we are glad to be in a position to offer this for the rest of the year."
To find out more about the team and the services it can offer, please contact Emlyn Williams.
Weightmans has given free coronavirus employment law advice to the NHS since March and has extended the scheme until 2021
Sectors and Services featured in this article