Partnerships and Limited Liability Partnerships - thoughts looking ahead
Many partnerships will be speculating about the final outcome for their business.
As we all sit at home in lockdown, battening down the hatches and trying to predict how long the effects of COVID-19 will be felt, many partnerships will be speculating about the final outcome for their business. One thing is clear, in the short to medium term, profitability looks problematic. What particular concerns should those in partnerships, including limited liability partnerships ("LLPs"), have in this situation? Further, in the long run, is there anything positive that can be taken away from this testing time?
Partners' liability
One of the major reasons (if not the reason) that many "old fashioned" partnerships converted to LLPs was because an LLP can, in certain circumstances, protect it owners ('members' – although still generally referred to as 'partners') from personal liability. By way of comparison:
Traditional partnerships (operating pursuant to the Partnership Act 1890 ("the Act"), as modified by any partnership agreement, have no separate legal personality. Further to s. 1 of the Act, Partnership is merely "the relationship which subsists between persons carrying on a business in common with a view of profit." Each partner has unlimited personal liability for the debts and obligations of the firm. In a recession or time of financial difficulty, the buck stops with each and every partner. Junior partners may enjoy the benefit of indemnities from senior partners. However, such indemnities are only as worthwhile as the financial standing of the individual by whom they are provided.
In contrast, LLPs are corporate entities. They appear similar to partnerships but they are very different. They have separate legal personality and, operated properly, can provide a shield to claims, offering real protection to their members.
Insolvency
So, on the face of it, an LLP offers significant advantages in terms of protection from personal liability, but (and this is a crucial "but") they don't offer complete protection when an LLP's business becomes insolvent. In that situation the members find themselves in a similar position to company directors running a failing or failed company – and expressly subject to s.214 A of the Insolvency Act 1986. This gives the liquidator of an insolvent LLP the right to claw back sums taken by the members (including drawings by way of profit share) for "wrongful trading" – trading an LLP when the members knew, or ought reasonably to have concluded, that there was no reasonable prospect of avoiding insolvent liquidation. Claw back can be operated in respect of sums drawn in the two years preceding the insolvency of the LLP.
Such claims are far from common in LLPs but, even so, are something for any member to consider in difficult times. For old fashioned partners, without the benefit of a separate corporate "fall guy", even more so. Making sure that a business ceases to trade before it hits the buffers is essential. Monitoring the liquidity of any partnership, in the current lockdown, should simply be a routine fact of life.
Is there a silver lining?
The likelihood is that most partnerships have taken, and will continue to take, steps to promote their best possible financial health during the lockdown. Inevitably that will mean looking at all aspects of the partnership, including considering whether parts of the business need to be changed or made fit for purpose during a long lean period. Where a partnership has stagnated, lost direction, become top-heavy, ceased to be "hungry" or simply just got too comfortable, the lock-down and anticipated recession will be a wake–up call and a driver for that change. Those running professional practices can expect some shake-ups.
Many firms which needed an injection of energy into the business are likely to find that this has now arrived in spades. The fall-out, mergers, retirements, reorganisations and a fresh consideration of partnership shares is likely to make times lively for quite a while to come.
That may be a good thing. To quote Friedrich Nietzsche "That which does not kill us, makes us stronger." For many partnerships, taking the opportunity to reassess, reorganise and get their businesses fighting fit may be welcome as well as necessary. Lockdown will end. Partnerships which have embraced the opportunity to take a long hard look at themselves may be all the better for it, in the years to come.
Andrew Cromby is a partner specialising in Partnership and LLP law, contact Andrew at andrew.cromby@weightmans.com or 020 7822 1962.
Coronavirus
View our latest guidance on how to plan, prepare and protect your organisation.
Read our guidance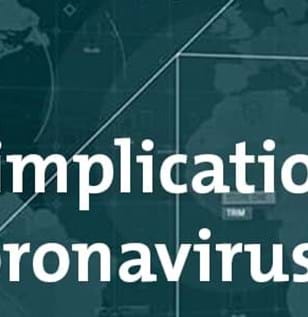 Sectors and Services featured in this article